A proponent of new and classic, western and world percussion music, FRANK CASSARA has premiered many works with as many diverse groups. As percussionist for the
Philip Glass Ensemble
, he has performed around the globe as well as recording Glass' music and film scores, most recently his new work "
Orion
". He has also performed around the world with
Steve Reich and Musicians
at major international festivals
.
As a member of the
New Music Consort/PULSE Percussion Ensemble
he has appeared at major festivals in the US and abroad, as well as premiering and recording new percussion ensemble works. Frank Cassara has toured extensively with
Newband/Harry Partch Ensemble,
performing and recording on Partch's original microtonal instruments and Dean Drummond's
Zoomoozophone
. He has also performed or recorded with groups as
Music From China, Percussia
,
Manhattan Marimba Quartet, Talujon Percussion Quartet, North/South Consonance
and
Ethos Percussion Group
. Principal percussionist of the
Riverside Symphony,
he has been principal of the
Connecticut Grand Opera
and a member of the
Hudson Valley Philharmonic.
He has also performed with many area orchestras such as the
Brooklyn Philharmonic, American Composers Orchestra,
and the
Long Island Philharmonic
. Frank Cassara has played for Broadway shows
"Porgy & Bess",
"Phantom
", "
Lion King
", "
42nd Street
" and "
Music Man
" among others, and heads the percussion departments at
Brooklyn College Conservatory of Music
,
Long Island University
and
Vassar College
.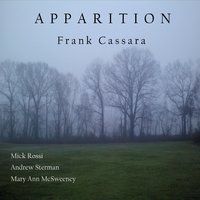 Fading_Leaves.pdf
1.2 MB
Dharma_piano_1.pdf
1.3 MB
"Really enjoyable quartet session from percussionist Cassara, who might be more familiar to some with his work in the Philip Glass Ensemble. Straight-ahead modern jazz that just seems to emanate a strength that rings loud from every note. Nice solos and all, but it's the way this sax/drums/bass/piano quartet comes together in unison where this album really shows its heart." Dave Sumner
Bird Is The Worm
Youtube
Spotify